Link to product AE Corduroy Shirt Jacket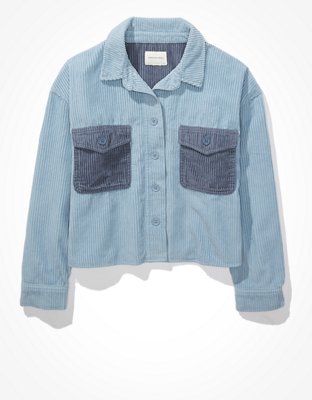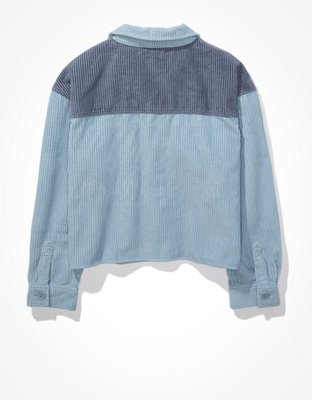 Link to product AE Cropped Camo Shirt Jacket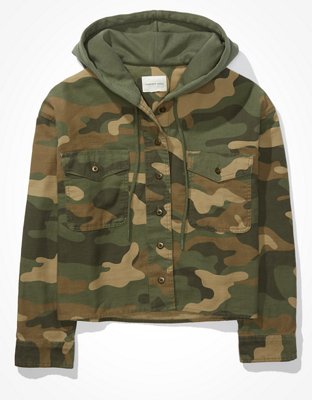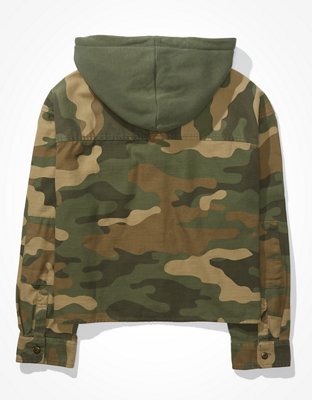 AE Cropped Camo Shirt Jacket
Link to product AE Cropped Corduroy Hooded Shirt Jacket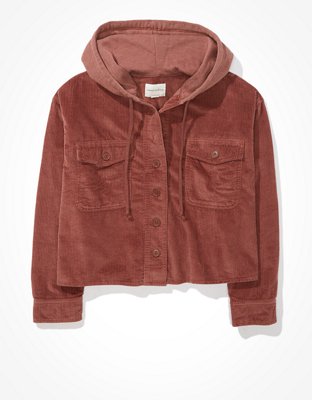 AE Cropped Corduroy Hooded Shirt Jacket
Link to product AE Cropped Denim Hooded Shirt Jacket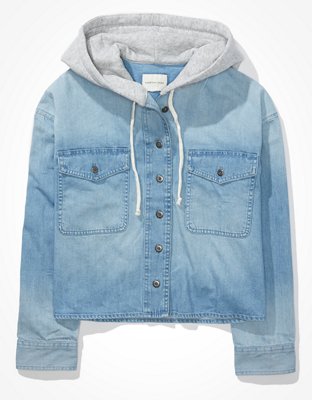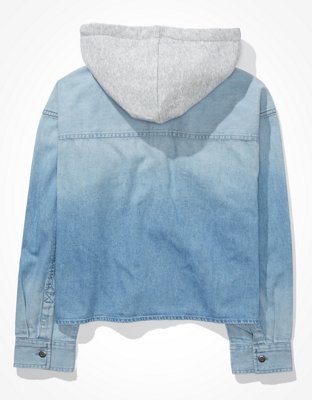 AE Cropped Denim Hooded Shirt Jacket
Link to product AE Cropped Military Hooded Shirt Jacket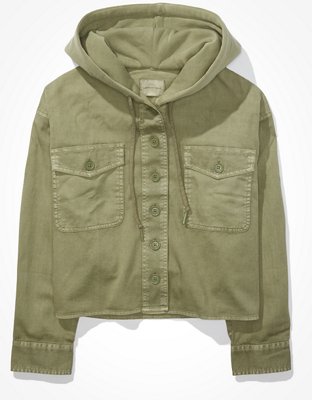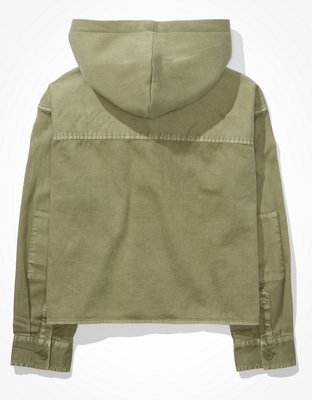 AE Cropped Military Hooded Shirt Jacket
Link to product AE Corduroy Button-Up Shirt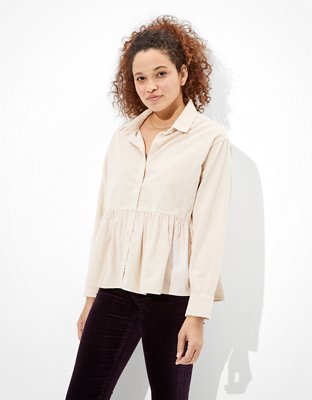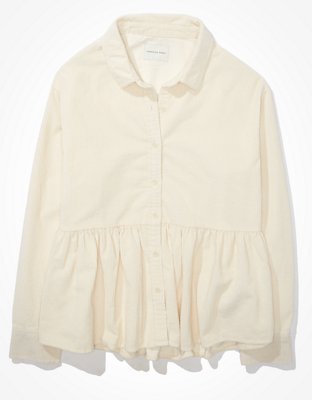 AE Corduroy Button-Up Shirt
Link to product AE Denim Button-Up Shirt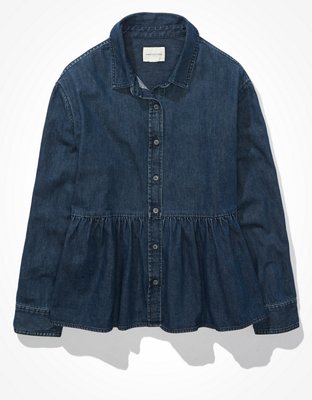 Link to product AE Oversized Striped Button-Up Shirt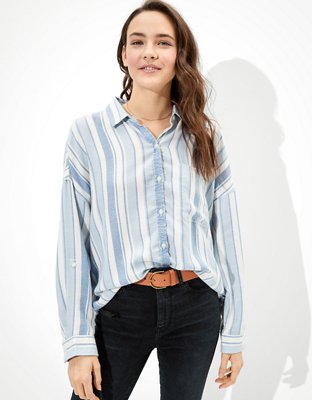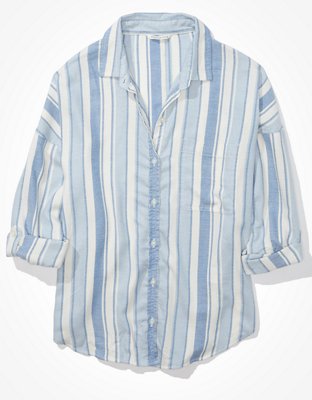 AE Oversized Striped Button-Up Shirt
Link to product AE Oversized Striped Button-Up Shirt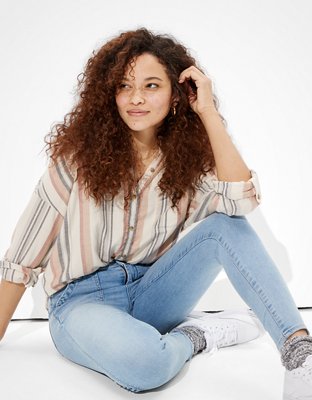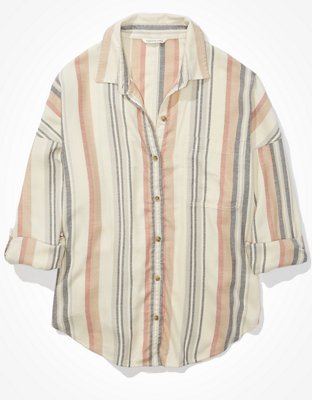 AE Oversized Striped Button-Up Shirt
Link to product AE Tiered Button-Up Top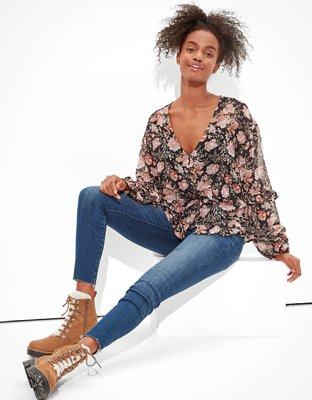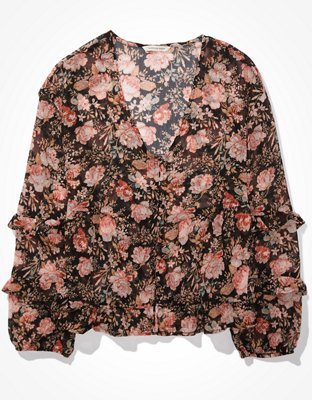 Women's Button Up Shirts
Find your new fave casual looks with women's button up shirts from American Eagle. They're designed with a laid-back style you've been searching for, and come in all kinds of prints and colors to reflect what you're all about. Our updated take on this versatile classic is both on-trend and timeless, meaning you'll have the right looks exactly when you want them. Build your next fave spring and summer outfit from the bottom up with your favorite jeans or shorts, then top off the look with button up shirts in tons of different styles. A new button up top can polish up your look easily, and they look incredible when worn with a cardigan or sweater.
Long sleeve button down shirts create a soft and cozy look you can wear into fall, and short sleeve styles are just-right for warming temps and every summer outfit you've been planning. Slip into comfort with flowing fabric and a loose cut, or go for a fitted style in a more body-hugging fit. Either way, you can make the look yours with details like chest pockets, button flaps, and button cuffs to add even more dimension to this style. Coming in soft fabrics like our sustainable Tencel fabric, lightweight woven fabric, cotton, and more, these women's shirts are made to feel good!
Wear denim your way with our soft denim button up shirts. Create that iconic denim on denim style by wearing a denim shirt with your favorite pair of jeans or denim shorts, or create a classic look by wearing them with leggings or a soft, flowy skirt for a look that's just right for nights at the beach, weekends away, and summer adventures. Striped designs create a dimensional vibe, and details like tie fronts and flowy sleeves update this look with a soft style. Made in all the best and latest seasonal colors, women's button front tops make sure you have an easy, on-trend vibe everywhere you go.
Button down shirts are a solid addition to your outfit of the day. Layer one with a graphic tee for a fearless summer combo, or steal some inspiration from your guy's closet with plaid button down shirts. Breathe new life into a plain shift dress with a button up shirt, and add your touch to every look with new women's shirts & blouses from American Eagle. Choose from button up styles, crop tops, t-shirts, graphic tees, and more to create a look that's all you, all the time. When worn with must-have women's jeans fits like Mom jeans, jeggings, high-waisted jeans, and cropped jeans, they create an effortless look that's ready for everything.