true
Back Pocket Jeans
There's nothing like a great pair of back pocket jeans to make you look and feel fantastic. These jeans are staples of every closet and look amazing whether paired with a casual graphic hoodie or a dressy button down shirt, and everything in between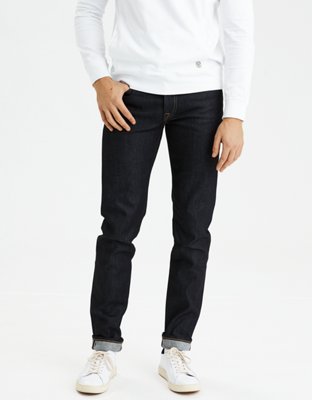 AE Slim Selvedge Raw Jean
Regular Price
$69.95
Sale Price
$52.46
More Details
Rigid Selvedge | Cotton denim with no stretch, Selvedge denim is premium denim woven on special narrow looms and finished with a ?self-edge?, Trademark selvedge taping on cuffs, coin pocket and back belt loop American Eagle Outfitters male adult Raw cotton 26x30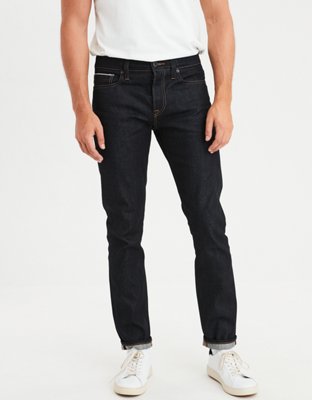 Ae Skinny Selvedge Raw Jean
Regular Price
$69.95
Sale Price
$52.46
More Details
Rigid Selvedge | Cotton denim with no stretch, Selvedge denim is premium denim woven on special narrow looms and finished with a ?self-edge?, Trademark selvedge taping on cuffs, coin pocket and back belt loop American Eagle Outfitters male adult Raw cotton 28x28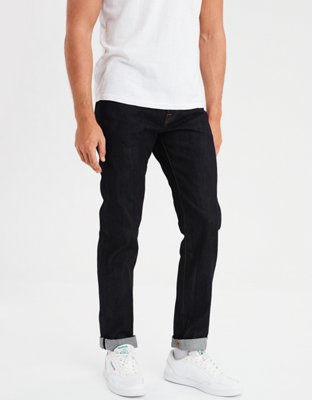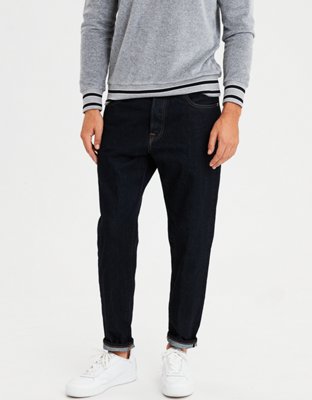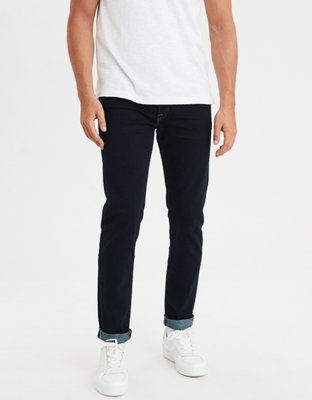 AE Flex Slim Selvedge Raw Jean
Regular Price
$89.95
Sale Price
$34.99
More Details
Flex gives you just enough stretch to move with no problem, Selvedge denim is premium denim woven on special narrow looms and finished with a ?self-edge?, Trademark selvedge taping on cuffs, coin pocket and back belt loop American Eagle Outfitters male adult Dark Rinse cotton/polyester/elastane 28x34
The AEO Artist Jean in Dark Indigo Wash is perfectly fitted through the hips and legs and has a Boho artsy flare at the bottom. They look fantastic with a hot pair of boots and a cute crop top. If you like the flare look but want something with a little more subtle of a flare, our Kick Boot in Pure Dark Indigo has just the slightest boot flare at the bottom but is perfectly fitted throughout the rest of the jeans. They're a comfortable and modern take on a classic, versatile boot cut, and the medium indigo goes well with all colors, from black to white. You don't have to pair them with boots, but they definitely look amazing with a good pair of brown or black leather boots.
Skinny jeggings are so popular right now, and it's because they feel so comfortable on, and look so amazing on. We paired skinny jeggings with the super hip high rise cut for our Sky High Jegging. These form-flattering pants come in dark and light shades of blue including the rich and dark Rinse Indigo, Washed Black, Medium Indigo, Indigo Acid, and the light and destroyed back pocket jean. These jeans look great with boots or cute flats for a dressy look, or with slip on sandals for a more casual look.
If you love the high rise jegging but want to take it to the next level, our Super Sky High Jegging in Dark Midnight will be your new favorite pair of pants. Pair these with a crop top and heels for a long legged look that will turn heads, or with a loose knit sweater and open toe flats for a cute spring evening outfit. Like our original jeggings, our Sky High and Super Sky High jeggings are soft and stretchy, with the look of a standard pair of jeans.
Back pocket jeans are a great beginning to any outfit, and AEO's range of fits, colors, and styles will satisfy everyone. Our prices are so affordable that you'll never have to choose only one pair, so go ahead and fall in love with them all.