true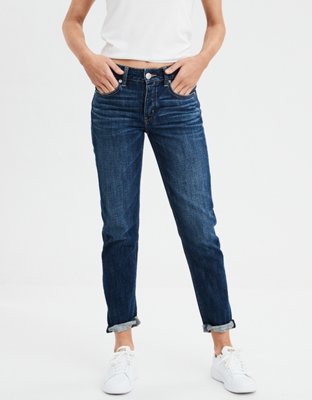 Tomgirl Jean
Regular Price
$49.95
Sale Price
$37.46
More Details
Rigid | Soft, mid-weight denim with no stretch, Our jeans are your canvas. Remix yours., Dark wash - wear it like you mean it, Low rise, relaxed through leg & with ease at leg opening, Slouchy & sits low on hips | 10" rise, 13 1/4" leg opening American Eagle Outfitters female adult After Dusk cotton 12 Long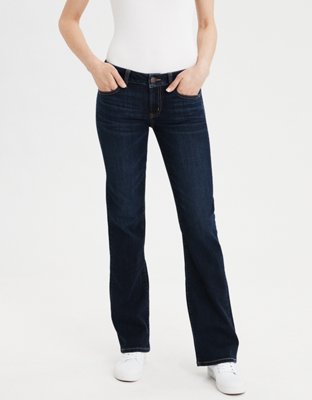 Favorite Boyfriend Jean
Regular Price
$39.95
Sale Price
$29.96
More Details
Super Stretch, Mid-weight denim gives you the right amount of structure, Holds its shape & won't bag out. Ever., LYCRA??, Dark wash?we obsess over every detail, Low rise, relaxed through thigh with a casual wide leg, Low 8 3/4" rise, 20" leg opening American Eagle Outfitters female adult Deepest Azure polyester/cotton/viscose/elastane 20 Regular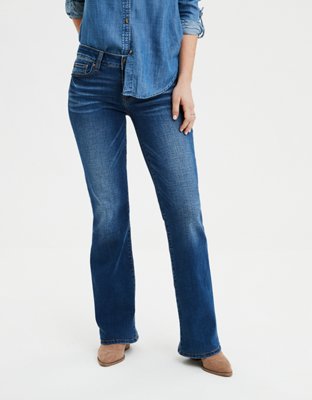 Favorite Boyfriend Jean
Regular Price
$49.95
Sale Price
$37.46
More Details
Super Stretch, Mid-weight denim gives you the right amount of structure, Holds its shape & won't bag out. Ever., LYCRA?, Medium wash?we obsess over every detail, Low rise, relaxed through thigh with a casual wide leg, Low 8 3/4" rise American Eagle Outfitters female adult Jet Indigo cotton/polyester/elastane 10 X-Long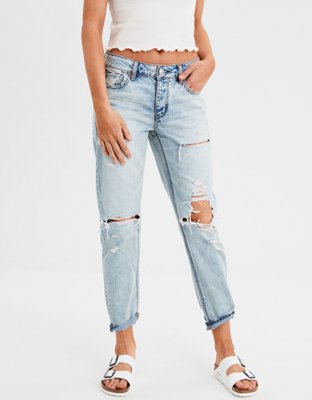 Tomgirl Jean
Regular Price
$59.95
Sale Price
$44.96
More Details
Rigid | Soft, mid-weight denim with no stretch, We obsess over every detail. Better with every wear. Make them yours., Destruction at front of leg, Light wash - wear it like you mean it, Low rise, relaxed through leg & with ease at leg opening American Eagle Outfitters female adult Light Vintage cotton 6 Long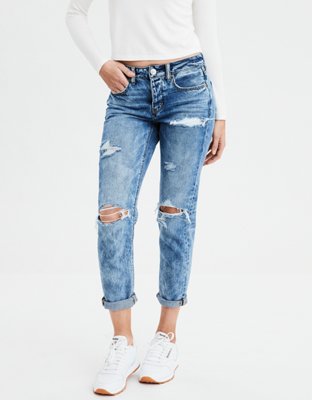 Tomgirl Jean
Regular Price
$59.95
Sale Price
$44.96
More Details
Rigid | Cotton denim with no stretch, We're serious about soft. Super soft, mid-weight & a 90's look., Medium wash - wear it like you mean it, Destruction at front of the leg, Low rise, relaxed through leg & with ease at leg opening American Eagle Outfitters female adult Uber Cool cotton 16 Regular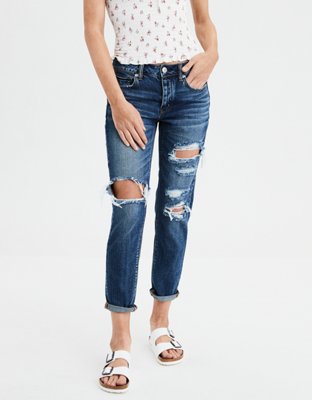 Tomgirl Jean
Regular Price
$49.95
Sale Price
$37.46
More Details
Rigid | Cotton denim with no stretch, We're serious about soft. Super soft, mid-weight & a 90's look., Destruction at front of leg, Dark wash - wear it like you mean it, Low rise, relaxed through leg & with ease at leg opening American Eagle Outfitters female adult Torn Up cotton 0 Regular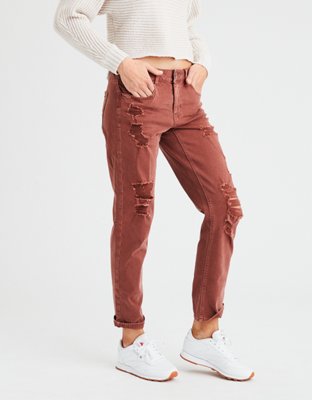 Tomgirl Jean
Regular Price
$59.95
Sale Price
$44.96
More Details
Super Stretch, Mid-weight twill with the right amount of structure, Holds its shape & won't bag out. Ever., LYCRA? DualFX? technology, Destroyed - wear it like you mean it, Low rise, relaxed through leg & with ease at leg opening American Eagle Outfitters female adult Rust cotton/viscose/polyester/elastane 4 Short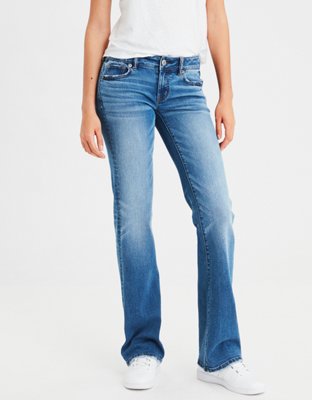 Favorite Boyfriend Jean
Regular Price
$49.95
Sale Price
$37.46
More Details
Super Stretch, Mid-weight fabric with the right amount of structure, Holds its shape & won't bag out. Ever., LYCRA? DualFX? technology, Light wash?we obsess over every detail, Low rise & relaxed through thigh with a cool & casual wide leg American Eagle Outfitters female adult Cerulean Indigo cotton/lycra 20 Regular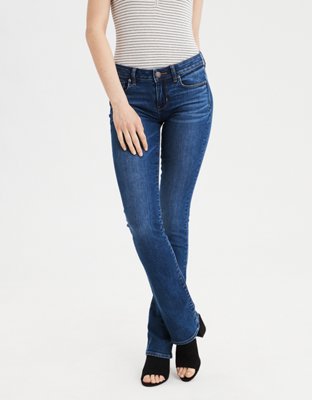 Skinny Kick Jean
Regular Price
$49.95
Sale Price
$37.46
More Details
Super Stretch, Mid-weight denim gives you the right amount of structure, Holds its shape & won't bag out. Ever., LYCRA?, Our slimmest bootcut jean sits low on the waist, Low 8 3/4" rise, 17" leg opening American Eagle Outfitters female adult Cobalt Blue elastane/cotton/polyester 0 Regular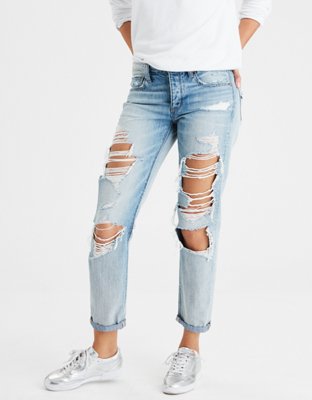 Tomgirl Jean
Regular Price
$59.95
Sale Price
$44.96
More Details
Rigid | Cotton denim with no stretch, We obsess over every detail. Better with every wear. Make them yours., Our denim feels better than the rest. Period., Triple roll hem detail, Sit low on the hips | 10.25" rise American Eagle Outfitters female adult Classic Vintage Destroy cotton 8 X-Short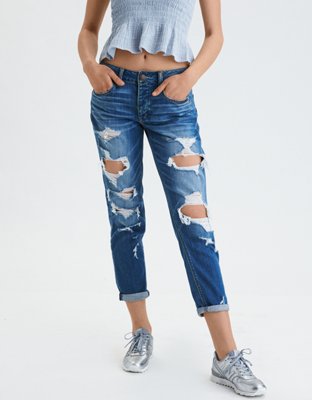 Tomgirl Jean
Regular Price
$59.95
Sale Price
$44.96
More Details
Rigid | Cotton denim with no stretch, We obsess over every detail. Better with every wear. Make them yours., Our denim feels better than the rest. Period., Triple roll hem detail, Sit low on the hips | 10.25" rise American Eagle Outfitters female adult Weekend Wanderer cotton 10 Regular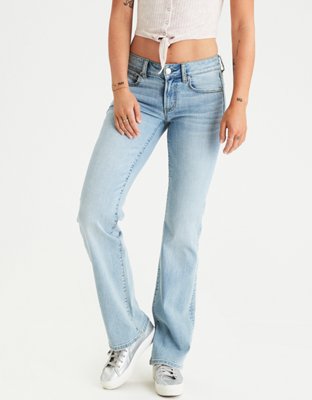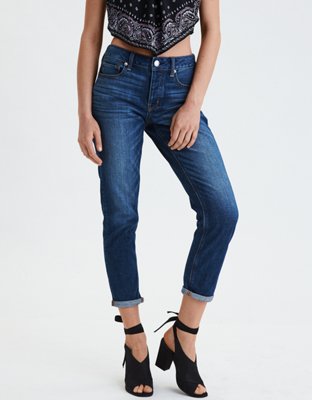 Tomgirl Jean
Regular Price
$39.95
Sale Price
$24.99
More Details
Rigid | Cotton denim with no stretch, We obsess over every detail. Better with every wear. Make them yours., Our denim feels better than the rest. Period., Triple roll hem detail, Sit low on the hips | 10.25" rise American Eagle Outfitters female adult Bright Vintage cotton/polyester 2 Regular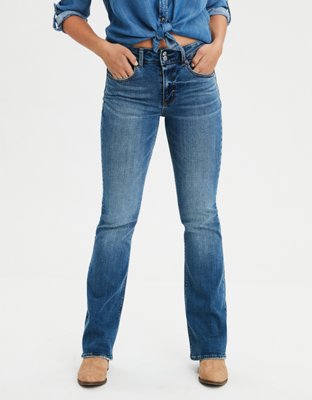 High-Waisted Artist(R) Flare Jean
Regular Price
$49.95
Sale Price
$37.46
More Details
Super Stretch, Mid-weight denim with the right amount of structure, Holds its shape, Won't bag out. Ever., Low rise jean with wider waistband & double shank (space between button & fabric for comfort) American Eagle Outfitters female adult Medium Vintage cotton/elastane 18 Short
Low rise jeans aren't just for women. They can be the perfect jean for men who prefer a comfortable and modern fit. That's why American Eagle Outfitters has many options for men's low rise jeans. With a variety of washes, anyone who likes it low will quickly find that these are the perfect go-to jean.
Fans of lighter washes should check out the Original Boot Jean in Light Vintage Wash. These jeans are made of rugged cotton denim. They sit low on the waist and are straight through the thigh. With a light blue wash and destroyed details, these jeans are the perfect pair for a casual day indoors or outdoors. Match them with a pair of casual Printed Canvas Sneakers and a soft Legend V-Neck T-Shirt. Or if you're going for a slightly more formal look, style them with a Stitched Leather Belt, a Plaid Button Down Shirt and a pair of Leather Lace-Up Boots.
Prefer your jeans just a shade darker? No problem, just head to the Original Boot Jeans in Medium Broken In. In the perfect medium shade, these jeans go with virtually everything and are a great look for both day and night. With just the right amount of whiskered details, they're the perfect blend between casual and classy. Pair them with a Legend Henley T-shirt and a pair of Lace Up Sneakers for any casual daytime event where you want to look just right, or style them with a Buffalo Check Button Down Shirt, a Leather Belt and a pair of Leather Cap Toe Boots for evening affairs.
Like your jeans super dark? We can do that, too. You'll want to check out the Original Boot Jean in Dark Sponge. With a wonderfully deep indigo wash, these jeans are sophisticated and stylish, perfect for when you want to kick up the fanciness just a notch. Also made of rugged cotton denim, they're so comfortable you'll want to wear them every day. Style them with a Plaid or Printed Button Down Shirt, a Downtown Leather Belt and Eastland Weston Plain Toe Boots. This look is nicely formal but can also be worn to more casual events for a classy daytime look.
Whatever your wash preference, American Eagle Outfitters has a style of low rise jeans that are perfect for you. With such versatility, these jeans will become your go-to in no time at all.