Details
Buy A Select Pair of AE® Jeans, Joggers or Shorts And Get A Select Pair of AE Jeans, Joggers or Shorts For 50% OFF
Beginning August 9, 2018 at 6:00 AM EDT for a limited time only, buy a select pair of AE jeans, joggers or shorts and get a select pair of AE jeans, joggers or shorts of equal or lesser value for 50% off. Must purchase two AE jeans, joggers or shorts to qualify. Offer is valid online at ae.com and in select US and Canada AEO stores. Discount applies to merchandise costs only, not tax and shipping & handling costs. Not applicable toward previously purchased merchandise. Not valid on AE men's swimwear, AE clearance merchandise, Aerie® merchandise, Tailgate® merchandise, Gift Cards, and merchandise from these brands: 30 Watt, Accessaware, AEO APT, Alite American Crafts, American Beagle, American Eagle Pride, American Needle, Amity Home, Ankit, A'Pieu, Ariul, Artisan De Luxe, ATNY, Audiology, Backyard Safari, Baggu, Bajazen, Ban.Do, Bass, Batiste, BC, Be Amazing, Beauty For Real, Bed Stu, Better Skin, BH Cosmetics, Big Mouth INC, Birkenstock, Blossom, Bomp It, Bravado, Breda, Brooklyn Lighting Company, Brooks, BTW, Buck Naked, Buddy Scrub, Buqu, Burt's Bees, Byrd, Case Taboo,Casetify, CAT Footwear, Clae, Clarks, Classy Chargers, Chasing Paper, Cooper Hewitt, Colour Me, Compagnie de Provence, Creative Recreation, Chronicle, Chronicle Books, CoLab, COSRX, Color Factory, ColorSmash, Colors x Good, CROWNJWLZ, CR Gibson, Crazy Baby, Crystal Mae Creations, DCI, Define, Deny, Design Clique, Design Ideas, Diadora, DIOY, Dormify, Dr. Martens, Dr. Scholl, Durango, Dolce Vita, Earth Henna, Earths Raw Beauty, Eastland, Evian, The Face Shop, Farewell Paperie Cards, Fctry, Feeling Smitten, Festive, Fjallraven, Emoji, EOS, EVA NYC, Formation Brands, Found My Animal, Fred & Friends, Fringe, Glitterville, Glory/Goorin, GOLA, Hachette, Half United, Happy Plugs, Happy Spritz, Hang Ten, Havaians, Heidi Swapp, Hello, Henschel, HERB + OIL CO., Hero Cosmetics, Holika Holika, House Of Intutition, Hunter, Hox Girls, IMM, Inked by Dani, It's Skin, In Your Dreams, Incienso De Santa Fe, Jac Vanek, Jane, Just Mustard, Living, Kalastyle, Keds, Keep It Simple, Kelsi Dagger, Kikkerland, Kitsch, Knock Knock, Knot & Bow, Kocostar, Kris Nations, K.Swiss, Kurt Adler, LMNT, LAQA, Laline, Lack of Color, Lapcos, Liberty, LIFE Line, Lip Tar, Little Market, Little Moon Essentials, Locomocean, Lola, Lorna Jane, Lottie London, Lulu DK, Lust For Life, LuMee, Luxy Lemon, Make Up Eraser, Marquee Market, Marvis, Masque Bar, Matisse, Meri Meri, Meg, Melville, Mink Pink, Minnetonka, Modelli, Moorish, Mountain Ocean, Mr.Kate, MukLuks, Muses & Rebels, Native, New Balance, NPW, Nudestix, Nuop, North Star, Noted, Octopus Books, Olli Ella, Paddywax, Paladone, Pilaten, Polaroid, Palladium, Pappwatch, Pendleton, PEZ, PF Flyers, Pinch Provisions, PONY, Pop Socket, Privé Revaux, Proraso, Pretty Little Things, Protocol, Quadrille, Quay, Que, Reebok, Rocket Dog,Rosanna, Royal Apothic, Saem, Sara Happ, Saturday Skin, Sazac, Scarlett Kitty, Schmidts,Seychelles, Sigma Beauty, Sisters of LA, Slant, Sleep Over Stick, Smitten Fortune, Soul Sunday, Spitfire Girl, Sprigs, Soap Girl, Street Level, Sun Bum, Sunnylife, Superga, Slydes, Swedish Hasbeens, Suck UK, Talking Tables, Tailgate, Tangle Teezer, Tattly, Teleties, Teva, Thorogood, thumbsUp!, Tidal, Timberland, Timex, Tonymoly, Topo, Toss, Tretorn, Tribe, Triple C, Twelve NYC Umbra, Urban Ears, Vivitar, Volley, Wallpops, Wanderlust, Wattz Up, Westminster, Whish, Wild Honey, Wild + Wolf, Wolverine, Woolrich, Word, Workman, XMI, Yuni Beauty, Yevo 1 and Zoell.
© 2018 AEO Management Co. All Rights Reserved.
BOGO 50% off jeans, joggers and shorts! Shop Women | Shop Men | Details
AEO Thin Multi Strap Suede Sandal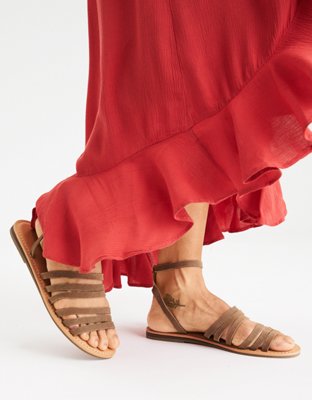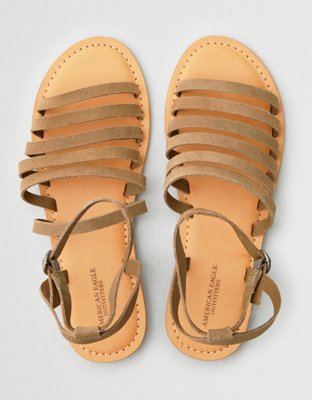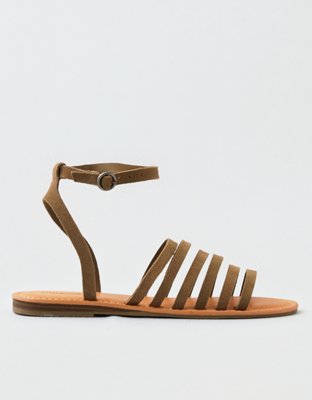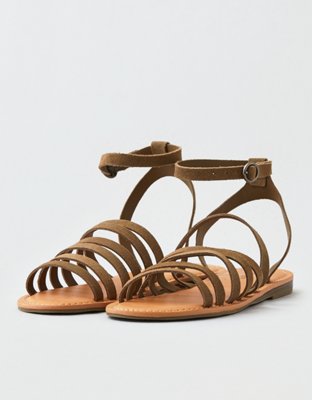 AEO Thin Multi Strap Suede Sandal
This item is available online only.
This size is available online only.
Forget something? Select a size before you can add this to your bag.
Sorry, that size is out of stock.
The Details
Classic and cool. New sandal vibes.
Genuine suede leather construction
Open toe, narrow strappy silhouette
Ankle strap with buckle closure
style:

1415-3975

| color:

256
Need Help Finding Your Size?
Size Chart
Live Chat

8 a.m. to 12 a.m. EST
Classic and cool. New sandal vibes.
Genuine suede leather construction
Open toe, narrow strappy silhouette
Ankle strap with buckle closure
style:

1415-3975

| color:

256
Need Help Finding Your Size?
Shipping Rates + Return Policy
U.S. shipping + returns rates
ORDER
STANDARD
2ND DAY
OVERNIGHT
RETURNS
$0-$49.99
$7
$15
$20
Varies✝
$50 OR MORE
FREE
$15
$20
Varies✝
GIFT CARDS
FREE
$15
$20
N/A
BRAS
FREE*
$15
$20
FREE*
SWIM
FREE*
$15
$20
FREE*
APARTMENT
FREE*
$15
$20
FREE*
TAILGATE
Varies**
$15
$20
FREE*
*Excludes clearance products.
**Automatic free shipping valid for orders of $50 USD or more. Standard carrier rates apply to all other orders.
✝Shipping costs determined by size and weight of package.
INTERNATIONAL SHIPPING
For all international shipping questions, check out our international Shipping Rates and Return Policy.
2 easy ways to return in U.S. & Canada
1. RETURN TO A STORE (IT'S FREE!)
Whether you bought your items online, by phone or in any of our stores, you can return or exchange them at any AEO, Aerie or AEO Factory store in the United States and Canada.
2. SHIP YOUR ITEMS BACK
If you received items by mail, it's easy to send them back! Print a label from the Track Order page, then take it to the post office to ship it.
Need more info? Check out our Full Return Policy.
Learn More

Find the looks you love & we'll hold them for you at your favorite AEO or Aerie Store, no payment needed. Here's how it works:
Reserve
Find an item and Reserve In Store to get started. Reserve up to 5 items per day then look for an email or text confirmation. As long as the store is open, we'll get back to you within an hour.
Try
Stop in and try on your reserved items. We'll hold them until the store closes the next day.
FAQs
In what stores can I use Reserve, Try & Buy?
Reserve, Try & Buy is now available in all US and Canadian AEO & Aerie stores.
How long will my reserved items be held in store?
Once we let you know your order is reserved, we'll hold the items at your favourite store until the end of the next business day.
How many items can I reserve?
You may hold a total of 5 items per day/per store. Note: We'll send you a separate message for each reserved item.
What price will I pay for the item I reserved?
You will pay the lowest in-store price for the item. Online only discount codes will not apply.
Where do I pick up my order?
Once we let you know your order is reserved, just walk into your selected store and tell an associate you reserved an item.
Is everything available online also available in stores?
Unfortunately not. Online exclusives, extended sizes and other select styles aren't available for in-store pickup.
How can I check the status of my order?
You've got a few options! Visit the Track order page at AE.com and enter the order number or check your email for all the updates.
Why don't I see Reserve, Try & Buy in the App?
Download the latest version of the AEO App.