Details
BUY A SELECT PAIR OF AE® JEANS OR SHORTS AND GET A SELECT PAIR OF AE JEANS OR SHORTS FOR 50% OFF
Offer valid beginning May 17, 2019 at 6:00 AM EST for a limited time only, at ae.com® and in select U.S. AEO stores. Offer valid for U.S. customers only. Buy a select pair of AE® jeans or shorts and get a select pair of AE jeans or shorts of equal or lesser value for 50% off. Must purchase two AE jeans or shorts to qualify. Offer not valid on clearance merchandise, Aerie® merchandise, 3rd party merchandise, AE x Marvel, Aerie x Marvel, AEO APT, American Beagle or Gift Cards. Offer applies to merchandise after discount costs have been applied, prior to sales tax and shipping & handling costs. This discount is not redeemable for cash, nor is it applicable toward previously purchased merchandise. All prices and/or promotions at ae.com are reflected in USD.
© 2019 AEO Management Co. All Rights Reserved.
BOGO 50% off all jeans & shorts! Shop Women | Shop Men | Details
filter + sort
Clear
Size
Size




Please select a gender above to see available sizes.
00 Short

00 Regular

00 Long

0 Short

0 Regular

0 Long

2 Short

2 Regular

2 Long

4 Short

4 Regular

4 Long

6 Short

6 Regular

6 Long

8 Short

8 Regular

8 Long

10 Short

10 Regular

10 Long

12 Short

12 Regular

12 Long

14 Short

14 Regular

14 Long

16 Short

16 Regular

16 Long

18 Regular

18 Long

20 Short

20 Regular
Sort By
Sort By




sidebar.please.select.gender.sort
Price: Low to High

Price: High to Low

Highest Rated

Online Only

Noni is 5'8 and wearing the High-Waisted Crop Flare Overalls in size XL.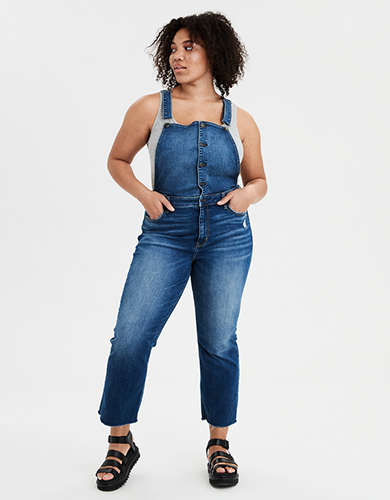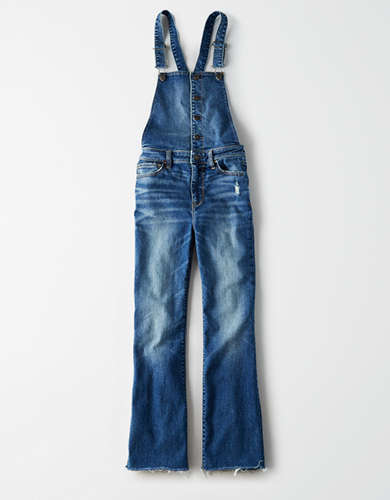 BOGO 50% Off All Jeans & Shorts!
removed!
No products found. We are sorry. Please select different filters.
Crop Flare Overalls
Upgrade your denim overalls with serious style by suiting up in the high-waisted crop flare overall from American Eagle. This denim overall is designed with incredible care to make sure you have the best fit available, and since it comes with a lot of great finishing touches, it'll stand out among a sea of overalls this season. These overalls fit like your favorite high-waisted jean through the thigh, then are slim at the knee with a mini flare at the leg opening. The cropped length shows off those great ankles of yours, and lets you make your look even better with all the right shoes like sneakers, sandals, flats, heels and more. The crop flare overall adds an iconic throwback style to your routine, and feels cool wherever you wear them.
Show up to your next event feeling good in AE women's overalls. Whether you just want to channel some authentic 80s or 90s style for the day or you just like the fit of a good pair of overalls, this design can be everything you've been searching for. We make them in different styles and fits so they'll feel as good as they look, and so you can customize your look however you want. Tomgirl overalls mimic the Tomgirl jean with their casual, relaxed fit, and jegging overalls copy the tried and true elements of your favorite jegging to create a curve-hugging feel. High-waisted overalls feel good no matter what you're up to, and soft overalls add style and comfort with soft fabrics and lightweight designs.
Choose your overalls in different washes to add some style to your daily look. Light washes are never a bad idea when replicating some throwback styles, while medium and dark washes create a classic blue jeans style you know and love. Other iconic details like bib fronts, side buttons, and hip and back pockets keep your overall game on point. Other hand-made details add some character to your denim, too. Ripped knees, heavy destruction, ripped and repaired holes and other elements take your overalls from classic to edgy in seconds. Wear your new crop flare overalls with all the women's shirts you already love like graphic tees, crop tops, tube tops, t-shirts and a bunch more. Level up your overalls style with accessories like hats, hair accessories, sunglasses and bags and create your next festival-ready style.
Browse our other denim favorites, women's jeans to find all the other fits worth checking out this season. Browse classic, tried and true fits like skinny jeans, jeggings, high-waisted jeans, cropped jeans and more, or shop new fits like the 90s boyfriend jean, Curvy jeans, Mom jeans and other must-have designs we're pretty into this season. Made with all the best fabrics, washes and details, our jeans are designed for comfort and style. Shop the full line of women's jeans in sizes ranging from 00-20 in Short, Regular and Long + Extra Short in 00-14 and Extra Long in sizes 0-14 at AE online to find jeans that feel as good as they look. Or if you want to stick with all our one-hit wonders like overalls, rompers & jumpsuits, browse the full lines to find your next favorite one-piece looks from AE.
Learn More

Find the looks you love & we'll hold them for you at your favorite AEO or Aerie Store, no payment needed. Here's how it works:
Reserve
Find an item and Reserve In Store to get started. Reserve up to 5 items per day then look for an email or text confirmation. As long as the store is open, we'll get back to you within an hour.
Try
Stop in and try on your reserved items. We'll hold them until the store closes the next day.
FAQs
In what stores can I use Reserve, Try & Buy?
Reserve, Try & Buy is now available in all US and Canadian AEO & Aerie stores.
How long will my reserved items be held in store?
Once we let you know your order is reserved, we'll hold the items at your favourite store until the end of the next business day.
How many items can I reserve?
You may hold a total of 5 items per day/per store. Note: We'll send you a separate message for each reserved item.
What price will I pay for the item I reserved?
You will pay the lowest in-store price for the item. Online only discount codes will not apply.
Where do I pick up my order?
Once we let you know your order is reserved, just walk into your selected store and tell an associate you reserved an item.
Is everything available online also available in stores?
Unfortunately not. Online exclusives, extended sizes and other select styles aren't available for in-store pickup.
How can I check the status of my order?
You've got a few options! Visit the Track order page at AE.com and enter the order number or check your email for all the updates.
Why don't I see Reserve, Try & Buy in the App?
Download the latest version of the AEO App.