true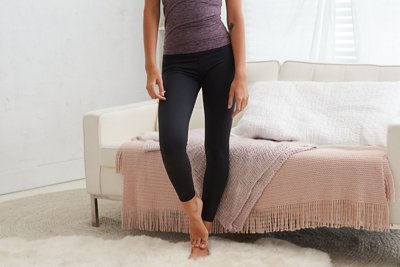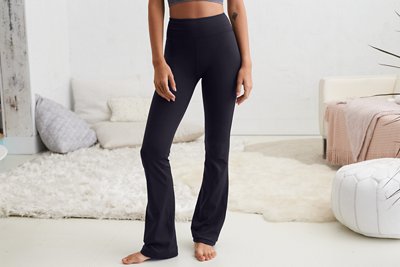 The first thing about fitness apparel is that it is easy to move around in and suitable for the activity you are going to do. But it should also look smart, feel great, and even be suitable to wear away from the gym or class.

The Aerie Move Legging uses the special Move fabric from Aerie that blends polyester with plenty of spandex to make a pair of leggings that allows complete natural movement. The fabric is also non-see through, so that it covers you, no matter what activity you are doing. The length is a full one that is below the ankle and has a 27 inch inseam. The leggings come in true black with a dark grey panel down the side of each leg.

The Play ¾ Crop from Aerie offer shorter length leggings that are perfect for gym workouts, and yoga classes, as well as relaxing afterwards. They have a soft, stretch fabric made from polyester and elastane, and have a three-quarter crop length. There is a tall, hi-rise waistband to offer support while worn, and they can be machine washed afterwards. Color options are stone with green accents, and deep plum with pink accents.

The Chill Boot Pant from Aerie is a style of fitness apparel that is also an easy to wear street style. The pants have a slim leg and thigh style then a boot-cut leg opening so can accommodate a favorite pair of ankle boots after activity. They are made with cotton and spandex so have plenty of stretch and are great for relaxing, meeting friends, or yoga sessions equally. After wear, they are also machine washable.

The Chill Short are for those times when you want the least clothing possible for your activity and offer just a three inch inseam length. Made with cotton and elastane, these shorts allow you total movement for those spin classes, or keep fit sessions, while also looking just as good as you relax beside the pool.

The Move Sports Bra is made for those workout sessions and can then easily be paired with a tank or tee to go out and meet friends. The bra uses a smooth, stretch fabric of polyester and elastane, and has a high neck style. There are sheer and unlined mesh details around the neck and on the back, while the bra offers support while you move. It can be hand washed after wearing.