Link to product Tailgate Women's Milwaukee Brewers Colorblock Sweatshirt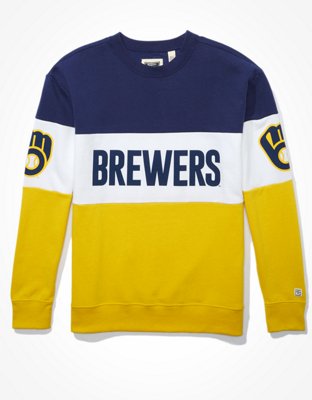 Tailgate Women's Milwaukee Brewers Colorblock Sweatshirt
Link to product Tailgate Women's Milwaukee Brewers Graphic T-Shirt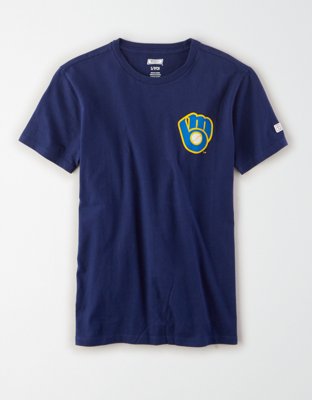 Tailgate Women's Milwaukee Brewers Graphic T-Shirt
Link to product Tailgate Women's Milwaukee Brewers V-Neck T-Shirt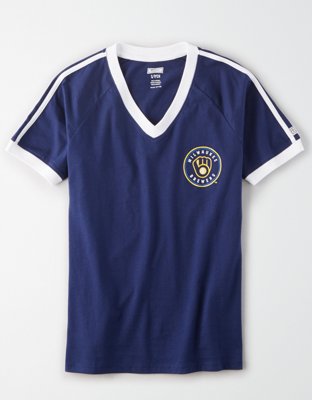 Tailgate Women's Milwaukee Brewers V-Neck T-Shirt
Link to product Tailgate Women's Milwaukee Brewers Cropped T-Shirt
Tailgate Women's Milwaukee Brewers Cropped T-Shirt
Link to product Tailgate Women's Milwaukee Brewers Pullover Hoodie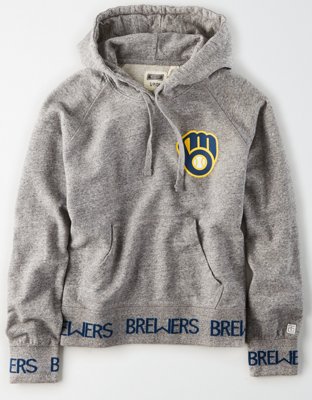 Tailgate Women's Milwaukee Brewers Pullover Hoodie
Link to product Tailgate Women's Milwaukee Brewers Long-Sleeve T-Shirt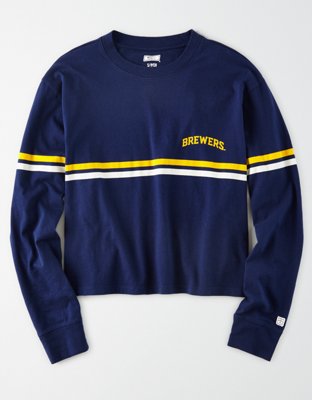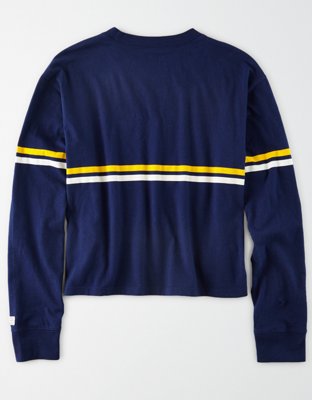 Tailgate Women's Milwaukee Brewers Long-Sleeve T-Shirt
Link to product Tailgate Women's Milwaukee Brewers Tank Top
Tailgate Women's Milwaukee Brewers Tank Top
Link to product Tailgate Men's Milwaukee Brewers Colorblock T-Shirt
Tailgate Men's Milwaukee Brewers Colorblock T-Shirt
Link to product Tailgate Men's Milwaukee Brewers Reflective Graphic T-Shirt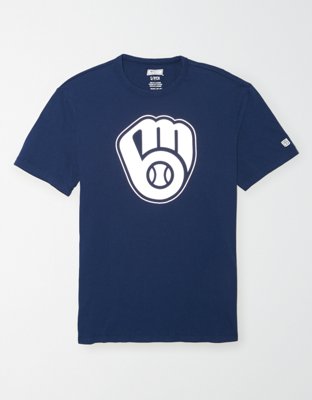 Tailgate Men's Milwaukee Brewers Reflective Graphic T-Shirt
Link to product Tailgate Men's Milwaukee Brewers Colorblock T-Shirt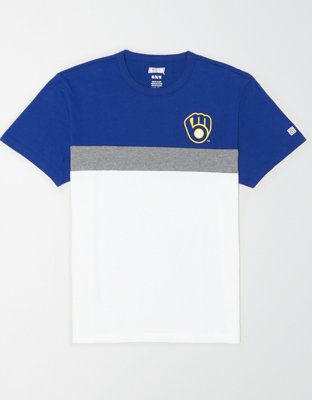 Tailgate Men's Milwaukee Brewers Colorblock T-Shirt
Milwaukee Brewers Shirts and Apparel
Step up to the big leagues ready to support your team with Tailgate's Milwaukee Brewers apparel and accessories. Brewers shirts are an easy way to carry your team pride with you everywhere you go – from the ballpark for a doubleheader, to class or work on gameday. Whether it's the heat of the playoffs, training season or slow off-season, you can support your team through the wins and losses with Tailgate's full line of Brewers apparel and accessories. Whether you're from Milwaukee or simply a fan of the brewing industry (just like the city is, itself) there's no way to rep in style without Brewers t-shirts and accessories. Wear what's considered to be one of the best logo designs in baseball for its optical illusion, the ball-in-glove, to games, on your couch, at tailgates or in the iconic city of breweries. There's no crying in baseball and neither is there a shortage of spirit when you sport Brewers shirts. Do it all in your favorite AE jeans, shorts and Brewers apparel.
How big of a Brewers fan are you? The Brewers mascot was styled after one of the team's famous fans, Milt Mason. He sat on top of the scoreboard until a game reached over 40,000 attendees. He was up there for over a month before the goal was reached! Cheer on the only franchise team to play in four divisions since the advent of divisional play in unique Brewers shirts. With Brewers clothing sporting the iconic team logo, insignia, and old-school mascots, you can pay homage to everything that makes this team what it is. Retro-inspired graphics and icons give a throwback feel worth of the big game or the off-season. Milwaukee Brewers women's shirts and Brewers gear update your team routine with a fresh take on an old favorite.
From championship runs to season slumps, you've been there with your favorite team. Brewers clothing and accessories take that team pride into tangible form so you can wear it loud and proud for all to see. For all the rivalry games, division titles won, trade losses and no-hitters thrown, you've been there through thick and thin with the Brewers. And with Tailgate's men's and women's Brewers clothing, you can prove it on the daily. Not only do our Brewers shirts and hoodies show off your spirit, they're also comfortable enough for all-day wear, too. Soft materials, classic fits and tagless comfort create an optimum fit every time.
Support your team from the first game of the season to the last with Tailgate's Brewers t-shirts, hoodies and accessories. And find something for everyone in your lineup with Tailgate's full line of MLB apparel, NBA and college fan gear. Whether you'd rather be on the sidelines of a basketball game, behind home plate for a baseball game or watching from home, we've got you covered with Tailgate apparel and accessories. Your fandom starts with pride and continues in Brewers shirts and apparel.